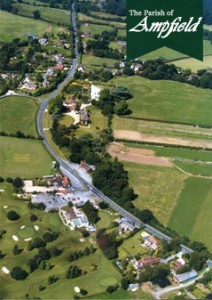 Ampfield is set in beautiful countryside about two miles to the East of the picturesque country town of Romsey, and about seven miles south of historic Winchester, the ancient capital of Wessex. The River Test and its lovely valley are two miles to the north-west, and the New Forest is about eight miles to the south-west.
The village can trace its roots back to prehistory, and our History page outlines the development of the village over the years. The countryside around Ampfield has changed little over the centuries. The countryside surrounding Ampfield and its adjacent parishes has been designated a Heritage Area, and the Heritage Area Group promotes schemes to protect and enhance it. The many public footpaths provide a pleasant way of exploring the parish
Ampfield is also the home of the world famous Hillier Gardens (formerly known as the Hillier Arboretum) These gardens hold the greatest collection of hardy trees and shrubs in the world. Started by the late Sir Harold Hillier in 1953 and given in trust to Hampshire County Council in 1977, the Gardens now extend to 180 acres. Within this unique collection of more than 42,000 plants (12,500 different types), visitors will find much of interest throughout the year.
Local attractions include: